Locksmith Shop Queens NY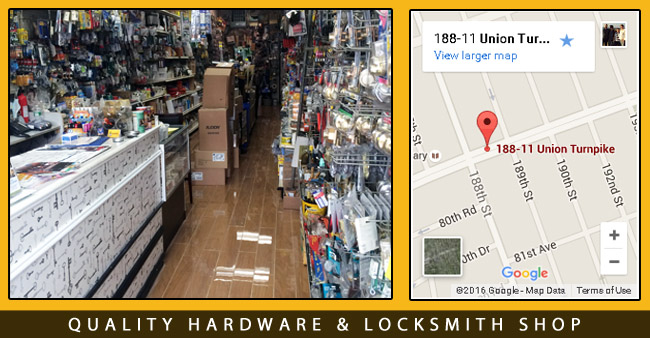 Are you looking for a hardware store in Fresh Meadows? Safehouse Locksmith & Hardware is proud to assist the residents of Fresh Meadows and NYC with expert locksmith services and friendly and knowledgeable hardware professionals passionate about your next renovation, home repair, or general project. Safehouse Locksmith & Hardware is your local hardware store in Fresh Meadows featuring leading brands and trusted names within the hardware industry. Our hardware professionals can assist you in finding the right tools and equipment to complete your next project with precision. When you are in need of locksmith or hardware services in Queens, we're here to help.
At Safehouse Locksmith & Hardware, we believe that your satisfaction comes first. Building strong business relationships with members of the Queens community has been essential to our growth and trusted name. At our local Fresh Meadows hardware store, we not only bring you trusted names in hardware, but we also perform repairs on screens, lamps, and safes. We are happy to help you whether you are looking for the right tool, need a key duplicated, or need repair. No matter you're looking for, Safehouse Locksmith & Hardware is available to serve you with expertise.
Whether you are a weekend hobbyist or a professional contractor, we have the tools you'll need to complete the job or project with efficiency and quality. Our affordable prices and rates keep your focus on getting more accomplished while spending less. With our full-line of locksmith services and repairs, Safehouse Locksmith & Hardware is your one-stop shop when you are trying to unlock a door, install a new one, or build your own from scratch. From the front door to your back door, we provide the tools and services you need in our local hardware store to prevent being locked out, begin a project, maintain and upgrade your tool collection, and help complete your next home renovation.
For more information about our hardware store in Fresh Meadows, call Safehouse Locksmith & Hardware at (718) 469-4444.
Safehouse Locksmith & Hardware - Your One-Stop hardware store in Fresh Meadows